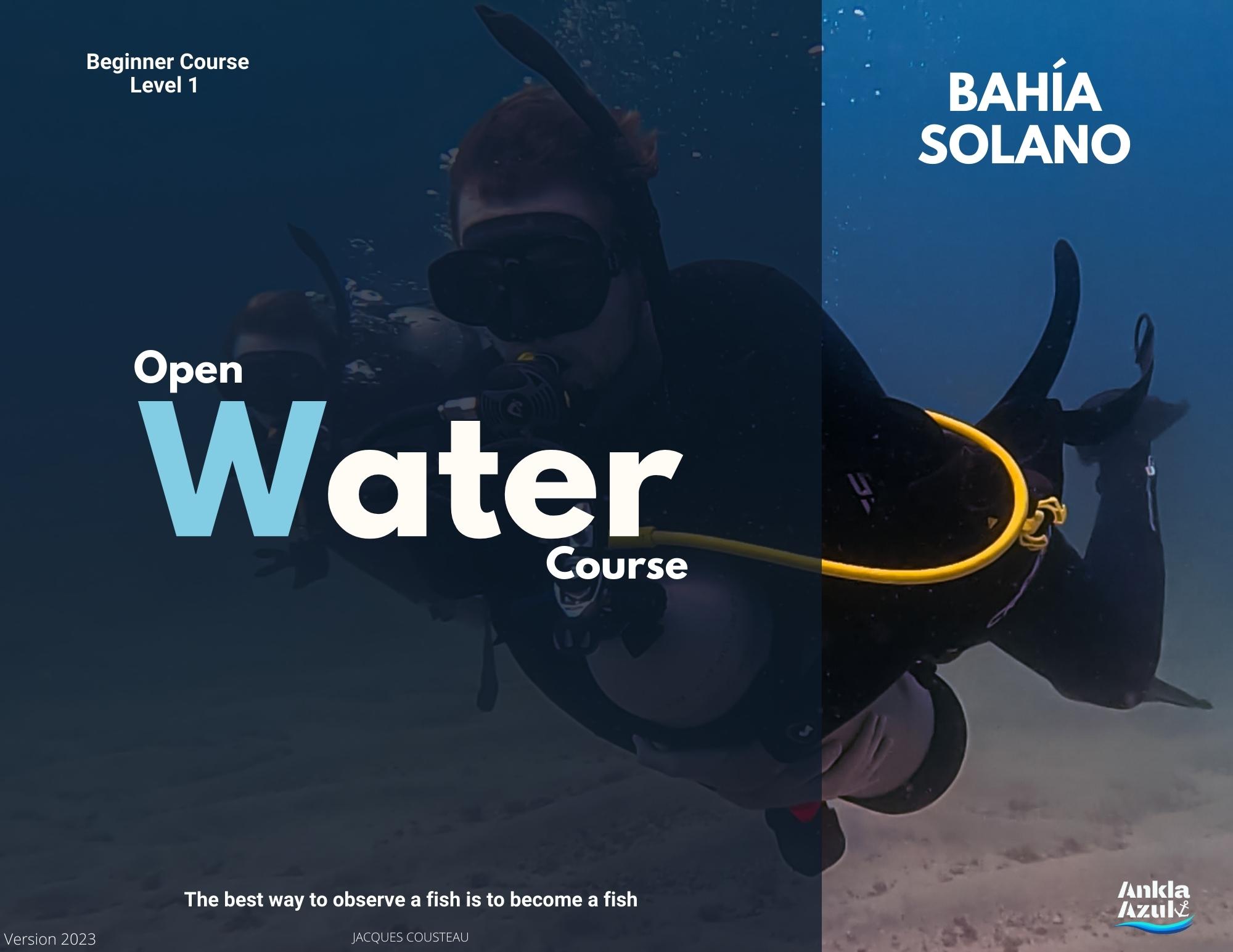 Our Open Water Diver course consists of three sections and 4 days. First, we send you the theory book in advance so you could study and develop your knowledge, after which you come and develop your skills in the swimming pool. On the first day of practice, you will go over the basic theory of diving in the classroom with an instructor followed by the pool session during the second day. You will attend lectures where topics to be discussed include different scuba equipment and accessories, underwater physics, the buddy system, the use of the recreational dive planner, how to plan a dive, and how to safely perform and execute a dive. On top of the knowledge gained during the lecture, you will practice basic diving skills during the confined water session, such as equipment preparation, underwater mask clearing, etc. After the theory, you will proceed with the open water dives. In this section, you will perform 4 ocean dives during days 3 and 4 and apply all the knowledge and skills that you have learned in knowledge development. This is the rewarding part, as you can now see the underwater beauty of Bahia Solano while performing a safe dive.
Becoming a skilled scuba diver requires effort and time and training, swimming ability and water skills, and knowledge to execute safe dive, Our way of teaching underwater scuba diving ensures that the diver has solid theoretical and practical skills on the first steps to the underwater world.
From the age of 10, you can become a certified scuba diver and explore marine life to a maximum depth of 18m (60 feet), when you become a certified diver you can scuba dive within your limitation in a buddy system the underwater world without the supervision of a diving instructor.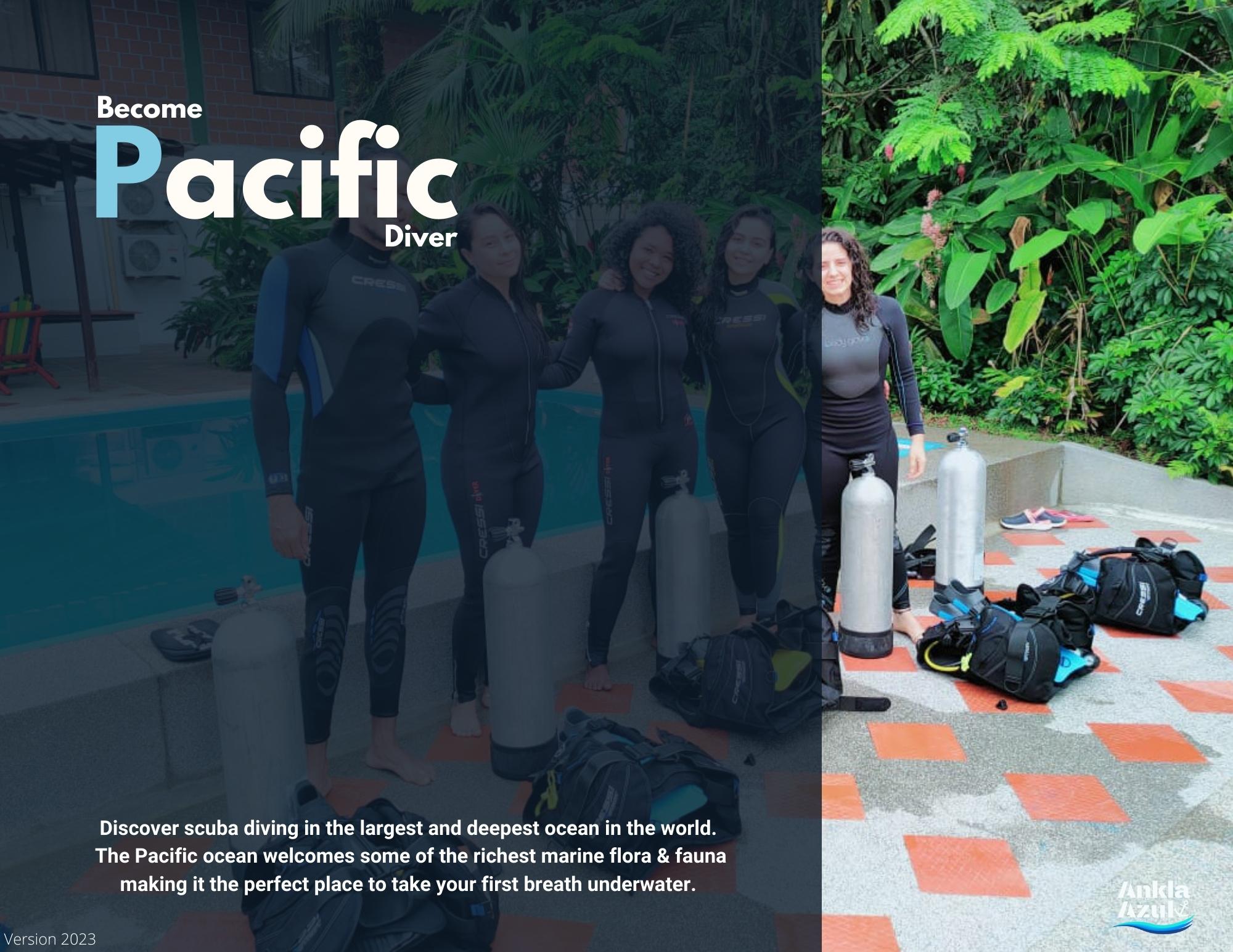 Pacific diver is a title we give to students who learn scuba diving in the largest and deepest ocean in the world. The Pacific Ocean welcomes some of the richest marine flora & fauna making it the perfect place to take your first breath underwater.
Important Information
The minimum age to enroll is 10 years old 

10 to 14-year-old divers earn a Junior Open Water Diver certification

Open Water Dives 1 and 2 -12 meters/40 feet

Open Water Dives 3 and 4 -18 meters/60 feet

Maximum depth for Open Water Diver certification -18 meters/60 feet

Time to complete the course in Bahía Solano 4 days

NOTE: After any scuba diving activity, you need 18 hours before flying out of Bahía Solano or going to high altitude

Read More

To enroll 30% of the total price is required and NO REFUND (the price of the E-book and certification)

In case of any medical condition, physician approval is required

Basic swimming skills are required 
The Price Included
Classroom 

Rental Diving equipment required to complete the course ( Mask, Snorkel, Regulator, BCD, Surface Marker, Wetsuit, Fins, Weights, Compass, Diving Computer)

Open Water Diver Manual E-Book

Swimming pool practices (confined water)

4Pacific Ocean Dives 

Digital certification card

Snacks and drinks

Diving insurance

Pacific diver T-Shirt 

Pacific diver cap
The Price Excluded
Transportation to Bahía Solano

Bahía Solano Airport Fee

Accommodation 
4 Days Course
2.660.000 COP